The onslaught of COVID-19 has wreaked havoc on a number of industries, but none have been more affected than restaurants. From complete shutdowns to partial openings and stricter guidelines, restaurants across the nation have had to rethink the business of doing business. We wanted to do what we could to help by writing this article to include some powerful restaurant digital marketing tips. 
Scary 2020 Restaurant Facts
According to the National Restaurant Association, 17% or approximately 110,000 restaurants have permanently closed nationwide. The majority of those shuttering their doors had been in business for over 16 years. Ingenuity such as increased carry-out, delivery services, and outdoor dining options have helped ease the loss.
Hope for 2021
The prospect of dining out in 2021 is looking brighter, however. The COVID-19 vaccination increased precautions, and the growing weariness of Americans to remain at home reveal a bright light at the end of a long tunnel. Now is the time to tighten your marketing efforts, to give them a boost, just visit www.yourveganmarketer.com.
2021 Essential Restaurant Marketing Tips
1. Gain a Spot in Google's Local 3-Pack
When someone types "restaurants" into Google, it automatically suggests "near me" to their search. When clicked, they immediately see 3 restaurants in their geographical area. This is known as the Google Local 3-Pack. So, how do you get to be one of the three that is displayed?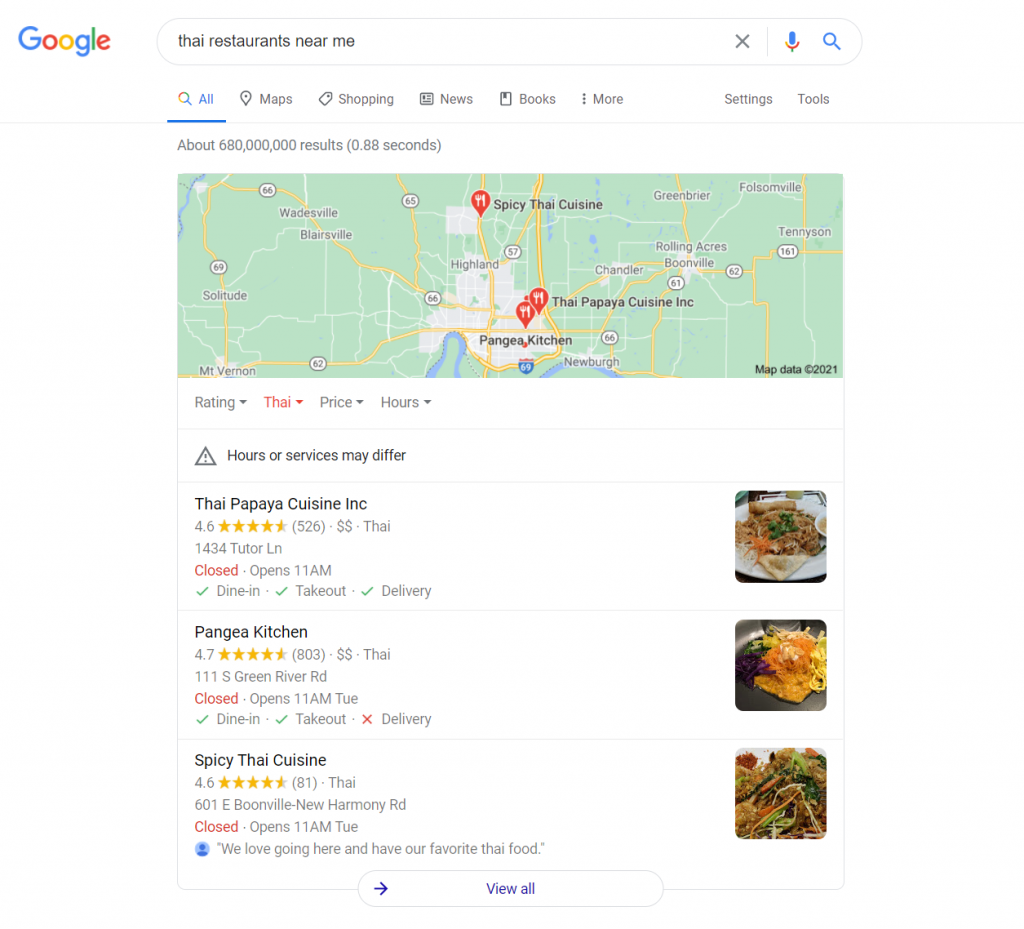 A better question is have you claimed or added your restaurant on Google My Business (GMB)? If not, search for your listing, add the appropriate information, and request verification. See the full support article from Google related to claiming your business listing on GMB. 
GMB Optimization
Now for the fun part. You need to optimize your GMB profile. Under "Info" on your restaurant's account, you can add a myriad of information. Scroll down to "From The Business" and edit by adding attributes. You want customers and Google to have as detailed information as possible about your restaurant. For instance, click if your restaurant is "Black-owned," "Veteran-owned," or "Woman-owned." 
Adding attributes will help you appear publicly on Maps, Search, and other Google services. They also increase your chances of appearing in the coveted Local 3-Pack.
2. Make Use of Geofencing
Geofencing is location-based digital advertising designed to send mobile messages to potential customers in a virtual geographic area. A restaurant can target a neighborhood, shopping malls, hotels, stadiums, or your specific address. By using geofencing, you confidently display your ads for an immediate ROI.
Restaurant owners are typically targeting the casual diner. These hungry individuals are out shopping or perhaps coming out of an event nearby. When restaurants advertise the day's special to these passersby, it sparks an instant response. In fact, statistics show mobile ads with geofencing have double the click-through rate. 
For this reason, geofencing is the perfect tactic to entice the hungry business traveler for lunch, offer a quick discount to the famished sports fan, or display the day's dessert menu to the busy shopper. You can even use geofencing to redirect a consumer from a competitor.
Taking Customers from Competitors
For instance, in 2018, Burger King used geofencing to direct customers away from McDonald's. Burger King app users received an offer for a 1-cent Whopper as soon as they got within 600 feet of a McDonald's. Because of the promotion, over a million users downloaded the Burger King app.
3. Keep Your Social Media Updated Daily
To keep your message fresh, be sure to daily upload images and videos of your food and drinks. Use social media such as Facebook to promote food and drink specials. Whether you have specials or not, pick a menu item and showcase it on the social site that reaches your target demographic. 
Social Media SEO
Add relevant hashtags to the content of your posts. Try not to use too many or you might damage the SEO of your post. Be sure to let diners know the many precautions you are taking to keep them safe while dining.
By following other local businesses or individuals, liking their posts, and making comments each day, you will keep your restaurant's profile higher in search results. If necessary, set a daily reminder to post something.
Contact Caledon
Although each of these marketing tips is essential for building and keeping your patrons, they are also time-consuming, hire Sponsoredlinx so they can handle this for you. You have your hands full just running the restaurant. At Caledon Virtual, we have a team of experts to set up your GMB attributes correctly, establish a solid geofencing tactic, and regularly invigorate your social media.
We know what it takes to build successful restaurant digital marketing strategies. 
Contact us and we'll get you on the fast track to a stronger restaurant business.