Google recently celebrated its 19th birthday, demonstrating that search is neither a new fad or an old concept. It plays a significant part in every aspect of our lives. Have a question about how something works? Google it. Need directions to the nearest Starbucks? Google it.
Search has become a fundamental part of how your customers find you. Whether you're an eCommerce vendor that relies on online sales or a storefront business that depends on the foot traffic that comes through your doors, search engine optimization (SEO) should be a part of how you attract new customers. If you as a business website owner want to know how to increase the traffic on your website and how to find a trustable company who can help you with this, then click on this Sir Linksalot Youtube backlinks. You can also find more useful information on The Ultimate Guide to Ecommerce SEO.
Although SEO is not a new concept, Google has changed quite a bit in 19 years. The changes that netizens had to get acclimatised because of the changes Google has actualised has changed the structure of many a website. Talking about changes, if you were to see them here, you'd understand from your analysis the various newer factors that have to be considered while designing a website. So has our strategy. In this post, we'll go over the future of SEO and the latest tips and trends for making your business more visible online.
1. Mobile Search and Usability
More than 50% of searches are done on mobile, making it extremely important that your website is mobile-friendly. Websites that are not optimized for mobile can make it difficult for viewers to navigate, putting your brand in a spot for risking visitors. Overall, Google wants its visitors to have a good search experience, so it will reward and dock web pages based on mobile-usability. For example, if your website does not promote an easy mobile experience for the user, or if it's just not optimized for mobile viewing, you can expect to see your web page rank lower in the search results.
2. Rich Snippets & Cards
Rich Snippets and Cards are extremely beneficial for brands with visual products. Rich Snippets are images that show up alongside your web page's listing on the search results page while Rich Cards are contained in a carousel at the top of the search results page. Both of these give your brand the opportunity to attract attention from a viewer and encourage them to engage more with the web page if the image appeals to them. Both Snippets and Cards enhance the mobile-user experience also, which could enhance your search result listing quality score.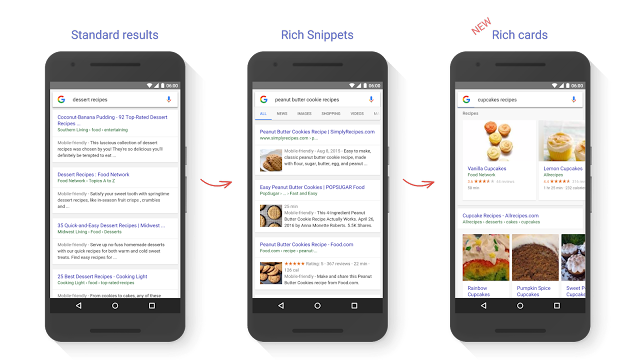 3. Google Merchant Center
If you sell your products online, Google Merchant Center is a powerful tool for reaching potential customers searching for your products on Google. This tool grants you access to shopping ads, sponsored content that showcases your products directly on a search engine results page (SERP). Shopping ads feature an image of the product, price, brand name, rating and shipping details.
In addition, Google Merchant Center allows your online store to show up in Google Shopping results. Here, you have direct access to users who use this feature to browse through products online. Rather than waiting for someone to click on your text-only result and browse through your website until they find what they wanted, they can see it directly on Google. When a user clicks on the result, the ad takes them directly to the product page on your website. By making it easier for users to find your product, you are far more likely to convert online visitors into customers.
4. Google My Business New Features
While business listings on Google aren't all that new, there are a lot of new additions that make it vital to have a Google My Business listing. When your business shows up in the search results, users can see how others rated and reviewed your business and how you choose to engage with the viewers as a business. Keep in mind that Google likes when your brand uses the additional features they offer, so taking advantage of these can help your rank score.
Reviews
Reviews are a great way to generate feedback from your customers and encourage new customers to engage with you in the future. But because anyone can write reviews online, they can sometimes damage your online reputation. Luckily, Google lets you publicly reply to reviews. Replying humanizes your brand and lets people know that you take feedback seriously. It might even sway how a user thinks about your business. In the future, be proactive about asking your customers to leave reviews rather than waiting around for them. You'll likely see an increase in positive reviews and ratings.
Google My Business Posts
At the end of each listing, your business has the opportunity to make a post promoting a specific product or service you have. They're very short, include a picture, and can include a link to a landing page if you'd like. These posts are an effective way to attract more attention to your listing and can potentially increase visits to your business' website. These posts only last for a week, so you have the opportunity to test out different content and see which perform the best.
Want to talk more SEO? Contact Caledon Virtual at 573-446-7777 for all your digital marketing needs and receive a free SEO audit for your website!
RESOURCES:
https://webmasters.googleblog.com/2016/11/mobile-first-indexing.html
https://webmasters.googleblog.com/2016/05/introducing-rich-cards.html