You better watch out, you better not cry if your favorite brand didn't make our "Best Holiday Social Campaigns" list. We even checked it twice!
The year 2017 saw many brands engage with users like never before. In May, breakfast giant Denny's engaged with millions of users with a tweet that encouraged viewers to zoom in on different parts of a photo of pancakes, and follow the directions. Eventually, the text led the reader to the phrase "has this distracted you from overwhelming existential dread lol." The tweet was retweeted over 120,000 times and received applause and praise in the form of more than 171,000 replies. While it may be too late for your brand to end up on our 2017 best tweets recap, it's not too late to capture some holiday magic in your social media marketing strategy.
If you're looking for inspiration, you've come to the right place, as we'll be ranking the top holiday social campaigns of Christmas 2017.
1. Best Engagement
We'll jump right in with the best overall engagement. This isn't necessarily the best tweet, but rather a thematic experience that involves the brand and its followers as equally contributing participants. This year, we're blown away by gourmet coffee supplier Starbucks, whose holiday cups are always a source of joy, and sometimes, unbridled rage. In 2016, Starbucks generated tons of engagement with its consumers by holding a design contest in which followers pitched design ideas to the corporate giant. Not to be outdone this year, Starbucks offered black-and-white cups with branded imagery, offered consumers a chance to decorate their cups following a trend in adult coloring books. The results are stunning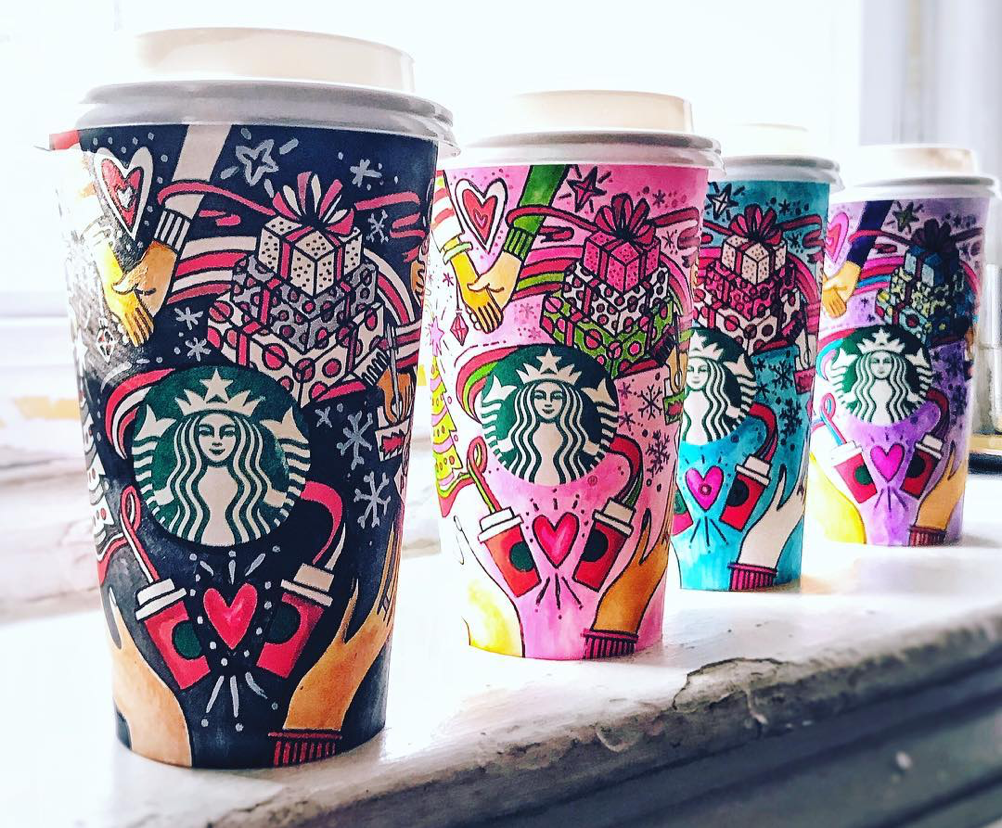 These colorful images achieve a daunting task in the world of social media marketing: cutting through the noise. In a world of unlimited scrolling, these beautiful images cause users stop and engage. What more can a brand ask for?
2. Best Campaign
Forty percent of users admit to using social media in the, er, restroom. Now, most brands see that data and have no idea what to do with it, but one brand was able to see value in that number: Charmin. The toilet paper brand knew early on that social media marketing would be a must to stay ahead of the competition, and often makes best-of lists because of their irreverent, but almost always hilarious tweets. With 2018 quickly approaching, Charmin took advantage of the fact that many consumers would be flocking to Times Square to watch the Ball Drop on December 31st. How did they turn this fact into brand awareness? By creating the "SitOrSquat" app, a place where users can locate and rate the cleanest restrooms in Times Square. While we don't want to sit in on meetings where Charmin marketing discusses how they can solve their consumer's problems, we do applaud them for this creative use of social promotion to solve a problem and win over a larger audience. As a reward for reading this far, here's a bonus picture of possibly the funniest toilet-paper related tweet of all time.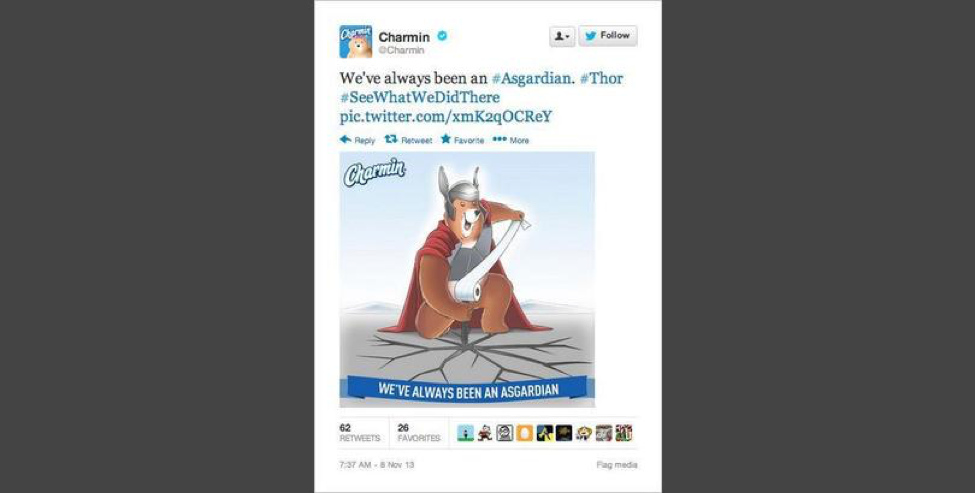 3. Best Holiday Spirit
It's red, it has a great logo, and its mascot is a dog. What's not to love about Target? This year, the retailer is capturing the feeling of Christmas with a great social feed, it's hard not to get excited about Christmas shopping, and the infamous Target effect: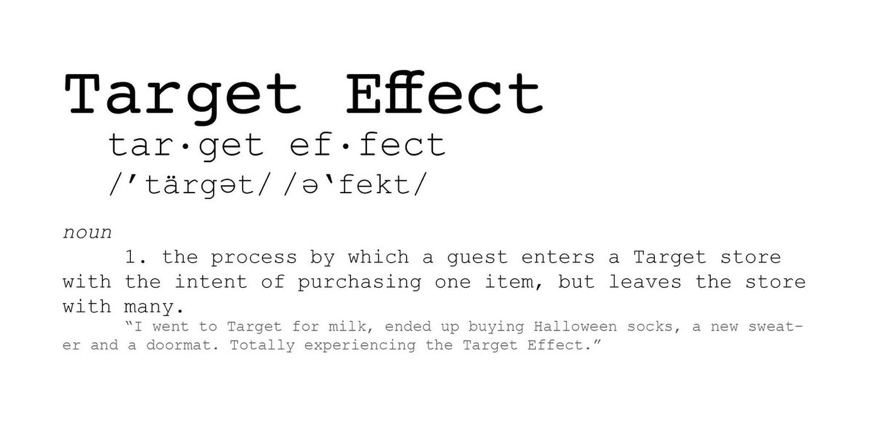 The earliest reference to Christmas on Target's social media is October 23rd, and while many stores receive criticism for early Christmas promotions, Target somehow gets a pass. So how does the retail giant get away with it? They use their social media platforms to display their brand personality, which is so in-tune with their targeted segments, that we see firsthand how genuinely excited they are for Christmas!
4. Funniest Post
Netflix literally cannot stop entertaining us. The video-streaming company provides hours of original and third party content, and a huge part of the holidays is the great movies, like Planes, Trains and Automobiles, and Elf. According to Netflix, some of us are a little more obsessed with Christmas movies than others: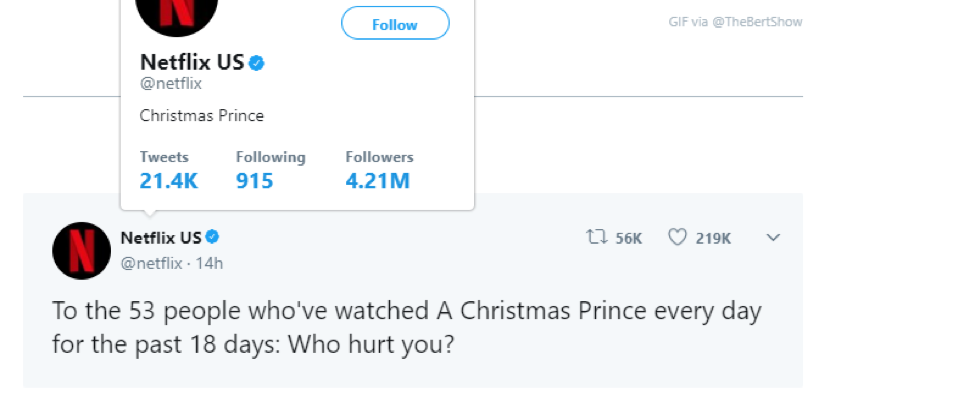 The 2017 Christmas movie has a score of 5.8/10 on IMDB, so Netflix is making a serious point: who watches a b-list movie 18 times in a row? Apparently, 53 people do. While we're laughing at their expense, Netflix has generated 220k likes in less than a day! That is seriously effective social media marketing! Speaking of b-movies, one Netflix user has streamed Jerry Seinfeld's A Bee Movie a startling 357 times this year!
5. Sassiest Tweet
A lot of people are geeking out this month because Star Wars: The Last Jedi is premiering soon. The battle between the Jedi and the Dark side may be fictional, but the Fast Food War is anything but. The twitter experts at Wendy's delivered what may be a fatal blow in late November, tweeting this to rival McDonald's: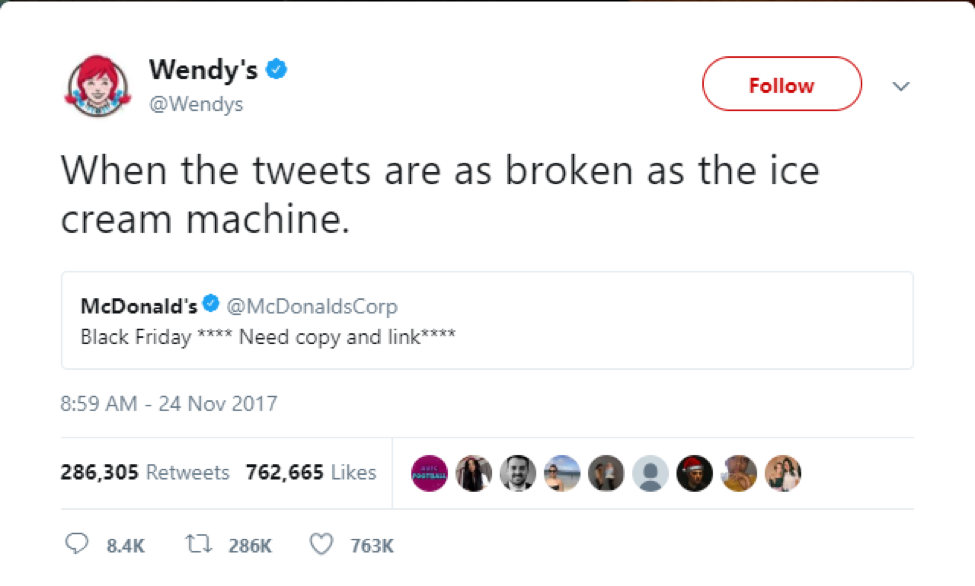 Look at those insane engagement numbers! While this tweet isn't explicitly holiday-related, it does teach social media marketing hopefuls an important lesson: pay attention to ongoing trends, stay relevant, and find any reason to post!
We hope this gives you a good head start when you begin forming your own holiday social campaigns for next year. Stay tuned for an upcoming worst-of list, or browse the rest of our blog to stay up-to-date on the latest digital marketing trends!