Want to know what American ingenuity is? 54 hours over the course of three days where an idea is created, a company formed, and one wins the funding it needs to get started.
Startup CoMo (Twitter and Facebook links) was held over the weekend, bringing designers, developers, and business people together to create the perfect storm of creativity and launch a business. There's lots we have to say about this, but first the most important thing. Snapier won the weekend with their idea of minimizing data entry across your web apps. Congrats to Wade Foster and his team for coming away with the top prize; his tweet obviously shows Snapier has a bright future: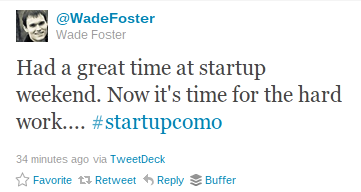 Allow us to wax poetic for a moment about the concept of Startup CoMo (part of the larger Startup Weekend movement). When the opportunity is presented for the strengths of creative people to combine in this manner, great things are a lock to happen. When we say "great things" we, of course, mean things like Snapier (and the many other ideas that were brewed), but what we really mean is moving our country and society forward. Is that being a bit grandiose? We don't think so.
Creativity and innovation are what our entire society is founded on. Without creativity, this American Experiment wouldn't be ongoing. Without innovation, we would have folded years ago. Without the opportunities events like Startup CoMo provide, we'd remain stagnant; an economy and country stuck in the throes of the same old, same old. We are incredibly thankful, and proud, to have and event like Startup CoMo, and the people behind it like Brent Beshore, here in Columbia. Here's hoping it's not another year before the next Startup CoMo.