Follow Shakespeare's Pizza on Twitter and connect with them on Facebook.
"O Romeo, Romeo! Wherefore art thou Romeo?" If Juliet only knew just how dumb of a question that was. If you've spent any time in Columbia, you know the answer is, "Eating some Shakespeare's Pizza."
Preparing to open its third location in Columbia, Shakespeare's has been the pizza destination for hungry Tiger fans for decades. The quirky nature of Shakespeare's is legendary in CoMo, and that has only carried over into its social media efforts. It's not often we say it's a joy to follow a person, much less a brand, but Shakespeare's tweets are always good for a chuckle, chortle, guffaw or laugh. As an example: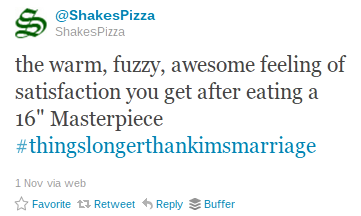 First of all, that's hysterical because we're pretty sure eating that much pizza might be longer than Kim Kardashian's "marriage". Second of all, it's absolutely true. The fond memories we have of evenings spent at Shakespeare's have been with us for years and will continue to be.
That's why Shakespeare's social media and marketing tactics are so brilliant. They're exactly what you would expect out of Shakespeare's. Sometimes snarky, sometimes business, always something you want to be around. What are some of your favorite Shakespeare's memories? Let's reminisce in the comments.