#FollowFriday two weeks ago was a special one for us, highlighting our great friend and business partner, Tom Trabue. That post inspired us (nice work, Tom!) to use the next few #FollowFriday posts for people who have inspired our work at Caledon Virtual. 
When the subject of inspirational people comes up at Caledon Virtual, a bevy of names come to mind (that's part of how this series was created). Two names really stand out on this list are. Don Laird and Piet Van Waarde.
Don Laird has served as the President of the Columbia Chamber of Commerce for 23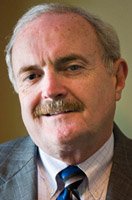 years. When he retires in mid-January, he'll have served for 24. In that near-quarter century of service to Columbia, Don has helped turn our city into fertile ground for the businesses of the future. His leadership inspires us to not just focus on the trends of the present day, but to look at what these trends point us towards in the next 10, 15, 25, and 50 years.
You probably know Piet Van Waarde as Senior Pastor at Woodcrest. We know him as a friend, confidant, and someone who drives us to be better people every day. Piet cares about people. It's as simple as that. He inspires us to make sure we are going beyond just providing fantastic customer service. We want to truly make our clients feel like they are a part of a family, the Caledon Virtual family. It's something we strive for every day, and Piet's wisdom helps guide us along that path.
Do you know Don and Piet? How have they inspired you?