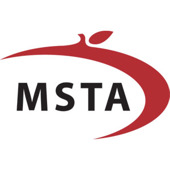 A debate is taking place in Missouri over how much contact teachers should have with their students in the realm of social media. A new law is set to go into effect on Sunday essentially banning any kind of private communication via social media; specifically Facebook. We'll not dive into the details here, they're readily available, here's an article laying out the opposing viewpoints, including one by our good friend Matt LaCasse.
Our #FollowFriday this week goes to the Missouri State Teacher's Association (@MSTA). They disagree with the new law, and have filed a lawsuit against it. As of the publishing of this post (6 a.m. CDT Friday, August 26, 2011) we are still waiting for a ruling from a judge as to whether an injunction against the law will be issued (UPDATE: The judge has ruled in favor of MSTA. The ruling can be found here and MSTA'S statement here). That's not why we're recommending you connect with MSTA. This is an organization that has the best interest of the teachers that are with your kids for 8 hours a day in mind. Want to know what's concerning teachers? MSTA is an excellent resource to rely on.
Connect with them, get involved and help make our schools a better place to work in and a better place for our children to learn in.