You've heard the phrase often: "Rome wasn't built in a day." It's an idiom that expresses the importance that good things take time. Our team at Caledon Virtual challenges that phrase each year during our Internal Startup Day.;
This idea is based on Startup Weekend, where a (large) group of strangers gather together for 54 hours to experience the highs and lows of beginning a startup. It's an exciting and tiring weekend that many of our team members participate in each year. There are pitch ideas, "investors," mentors, sponsors and powerhouse teams that bring innovative ideas to life in just one weekend. It's pretty cool and you should check it out. ;
Internal Startup Day
Going off of this idea, each year Caledon Virtual holds its own Internal Startup Day, where team members pitch ideas to the group, join forces and get as much work done on that idea as possible in just one day. The only stipulation is that whatever projects get chosen must benefit Caledon in some way. These ideas could be anything from starting a new niche of Caledon (like Wier & Bein) or building out a new website, app and more. Interested in past projects we've done for Startup Day? Check out what we did last year. ;
Pitches
We had a lot of great ideas from our team this year! We had ideas that had been thought out for weeks and then some ideas that had been thought of five minutes before it was time to pitch! That's the beauty of a good idea – you can't control when inspiration hits, but when it does, man it's awesome! Our team came together on the Thursday before Startup Day to pitch ideas.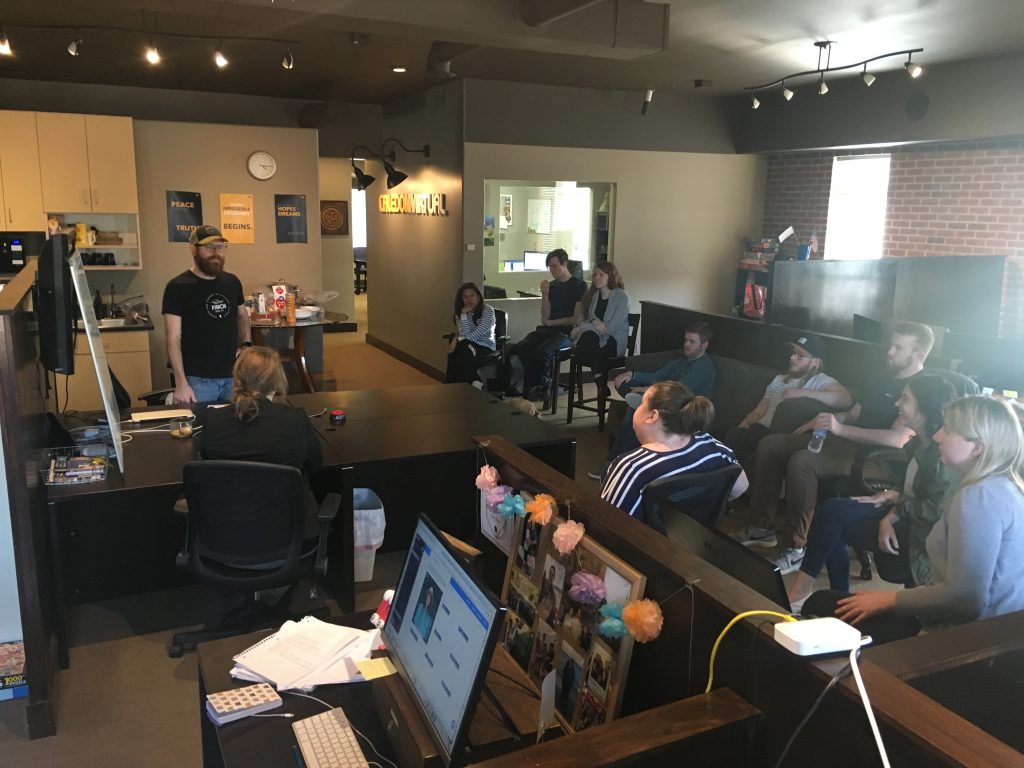 Some of the pitches included:
Brewery Locator
Organization Day
Proposal Template Updates
Wier & Bein Work Day
New Niche for the Dog Breeding Industry
CPM 2.0 (Nice try, Michael!)
The Winning Ideas
The team chose two ideas to work on: Wier & Bein Work Day and a New Niche for the Dog Breeding Industry (known as PawPrint). Then, team captains were chosen and people split up into either team.;
Wier & Bein, a recent branch-off of Caledon Virtual that services the alcohol beverage industry, planned to absorb the Brewery Locator idea that was suggested during pitches, while also working through client website homepage mockups, a new eblast template, a new social and paid search campaign, and more. Their goal was to use these tactics to amplify their outreach efforts, garner new clients and prepare for an upcoming conference.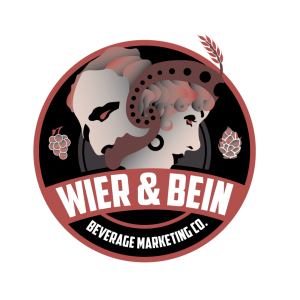 PawPrint would be starting from the ground up! To appeal to potential dog breeders, who are in desperate need of updated websites, they would need to create a website, logo, and develop an entire brand essentially in one day! The PawPrint team would need to create their brand, do market research and prove to the judges on Monday that there was a need for their services in the dog breeder world and how PawPrint would meet that need with its services. It's a daunting task, but they did it for the pups.

;
Start-Up Day Begins
What a whirlwind of a day! Team PawPrint and Team Wier & Bein both had early starts to tackle a laundry list of items to get ensure their MVP (most viable product) was met.;
With Wier & Bein having an advantage of already being a full-fledged brand, PawPrint had some catching up to do. But that didn't stop the team! They built two websites, created a logo, designed email templates and more, all in the span of about 9 hours. Bill, one of our graphic designers, led his team to success with his creative ideas and design savvy.;
The Wier & Bein team worked together to crank out an insane amount of work that was not only design-heavy but development heavy- as well with the Brewery Locator. Dillon, our lead web developer, created an app that allows someone to type in their location and find breweries near them to visit, with the ability to access directions and other information about the brewery, all in the same place.;
Each team had to work fast, be flexible and work outside their expertise at times. We had social media people learning to code and client service people helping with design – but everyone flourished under the pressure of the day!;
The Final Presentation
The following Monday, both teams arrived at 8 AM, ready to give a killer presentation to sway the judges toward their product. The judges included Tom Trabue, founder of TheNextSteps, Steve Smith from St. Raymond's Society and our own Creative Director, J. Michael Roach. The three judges were to base their scoring on four categories: Creativity, Execution, MVP, and overall #Badassery. Each team presented for 10-15 minutes, with 5 minutes for questions at the end. Needless to say, it was NOT an easy decision! The judges took a long time to deliberate, but finally, they came to a decision.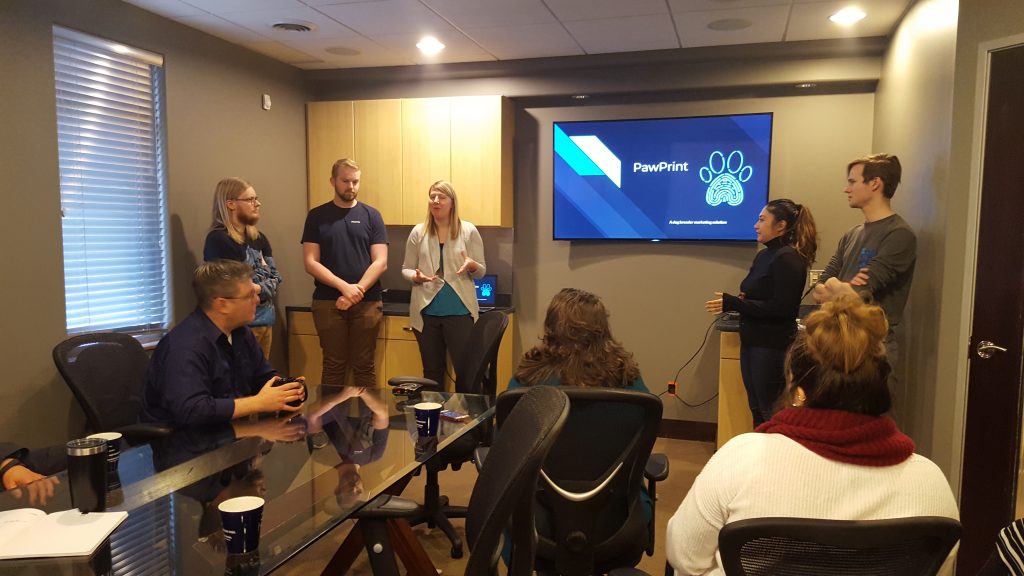 ;
The Winners
As much as us millennials love a good participation trophy, there had to be one distinct winner. No consolation prizes here, people. Based on the judging criteria, the Wier & Bein team won by a hair. While the PawPrint team cranked out a considerable amount of work, the Wier & Bein team had the MVP (most viable product) at the end of the day. However, that doesn't mean that the PawPrint niche won't come to fruition! Stay tuned to see what happens with this awesome brand in the future!;
What We Learned
One of the things our president Nelly Roach cannot stand is when people say "it can't be done!" And Start-Up Day is a great way to turn those can'ts into cans! Why? One word: collaboration. I take that back. Two words: Collaboration AND innovation. As individuals, our team members are rock stars, but together they are complete DYNAMITE. On days like this, it really brings out our team's unique skills and perseverance by pushing us past our comfort zones.;
Here is what some of our team members had to say about the experience:
"I really enjoyed working with and collaborating more in depth with team members who I don't usually get to work with as often." – Dillon Lara, Lead Web Developer

"My favorite part of start up day was the collaboration of working all day with the team and feeling like we were all working towards the same goal. It was a win-win day; super energizing as well!" – Bill Chlanda, Graphic Designer

"It was a great learning experience, and with Nelly's mentorship, we were able to see Bill's idea blossom into a new niche brand. It was awesome to be part of the PawPrint team because I had the chance to try and learn about new areas." – Emily Brehe, Content Specialist
Besides realizing how much we can really get done during the day when we all work together, one of the best parts was just bonding with our fellow team members and having fun. We ate a ton of donuts and pizza, listened to a lot of great music and had a great time – all while helping Caledon succeed! To put it in Bill's words, that's a win-win in our book. Until next year, Startup Day!