Often we wonder about the stories inanimate objects could tell. The walls of Congress, the floors of the CIA in Langley, the ceiling of the Sistine Chapel. What amazing stories they would be able to tell if only they could make some kind of noise. Friends, we found an inanimate object that could tell a story. Nelly's keyboard circa 1995. Maybe 1996.
Most likely 1973.
On a scale of sheer amount of noise made, this beast rivals a Gatling gun. Seriously. As you can imagine, the entire office is heartbroken at the demise of Mr. Key Tronic. For example, Alli has reworked a classic Simon & Garfunkel tune:
Hello Keyboard, my old friend
I've come to throw you in the bin
Because you sound like a machine gun firing
Thunder raging from the room beside me
And the fingers that made that awful sound
They're still around
I love the sound of silence
In restless dreams I waited for
The purchase from an office store
In the front door Sally came before us
Strike up the band and freaking raise a chorus
Cause Nelly has the most shiny new keyboard
We could afford.
Thank God! The sound of silence.
You can feel the wailing and gnashing of teeth as we wave goodbye (never mind that the waving is being done with a baseball bat) in every note of those lyrics. Heartbreak is palpable around Caledon Virtual.
Just the very thought of departing with Mr. Key Tronic has Rita on the verge of tears.
The sound was just deafening, and that was while I was in the other room!  When I went into her office to talk to her, the noise from that keyboard was so bad I thought I was developing some form of hearing loss!
You can almost TASTE the pain there, can't you?
It's really quite understandable. When you go from something like Mr. Key Tronic, who lets you know Nelly's emotional and physical state to something like this: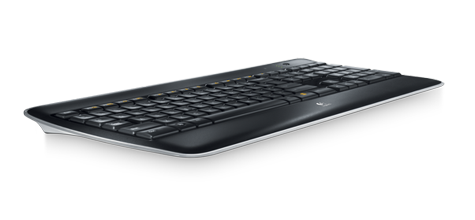 there's really nothing you can say to take the pain off. Sure, you could try telling yourself that your new Logitech Illuminated Keyboard that comes with a plug-and-play USB connector, a soft-touch palm rest, Logitech PerfectStroke Keys, an elegant and thin profile, and bright, laser-etched, backlit keys will help get you through, but you're really just kidding yourself.
Nicole related this story about her experience with the keyboard:
Nelly asked if Michael and I were always talking about how loud her keyboard was, and we were, she just couldn't hear us over the sound of her typing. We could always tell when she was "angry typing". It would get louder, faster, and you could tell she was doing a lot of backspacing. We were really worried about her, worrying that her anger would get the best of her and she'd turn into the Hulk.
Pay no attention to the garbage can full of earplugs and earmuffs, there is true sorrow and grief today at Caledon Virtual. The jokes perpetuated by Mr. Key Tronic are now just fond memories. Ones we will cling to as we adjust to a quieter and more productive work environment.
Your condolences are welcome in the comments.