We are highlighting great branding, tag lines, logos, or anything else that catches our eye as the top of the line strategic communication. Up this week is Animal Planet. Connect with them on Facebook and Twitter.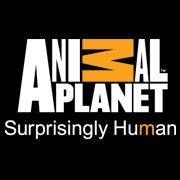 What makes a great tagline? There are many factors…does grab your attention? Is it memorable? Does it tell the audience all about your brand? All these and many other questions SHOULD go into the creation of a tagline. One of our favorites is from the home of the Puppy Bowl, Animal Planet.
"Surprisingly Human". That meets all of the criteria we laid out above. Beyond those requirements, it makes you pause, think, consider animals in a different light, and probably make you laugh. Animals are indeed surprisingly human. Have you heard of dog shaming? It's not cruel at all, it puts a human spin on dog behavior that is frustrating at first and ends up being something you can't help but laugh at. A perfect example of animals being surprisingly human. We all know this.
The beauty of this tagline is it takes the inherent love of animals most of us possess, and it pulls us into shows telling us all about various breeds of dogs. Or hours upon hours of puppies being RIDICULOUSLY cute in the Puppy Bowl. Seriously. We can't get enough of it. The tagline is a hook to get us to stop and pay attention. With 8.4 million likes on Facebook and over 242,000 followers on Twitter; people are definitely paying attention.