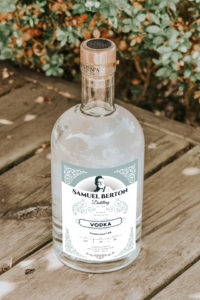 Our client's grandfather, Samuel Berton, was a moonshiner from Tennessee. Samuel was an avid cigar smoker and whiskey drinker, loved his eggs and bacon every morning, and lived until the ripe old age of 89. Just like most folks in that time period, he was a hard worker and tougher than nails. His no-nonsense attitude and affinity for distilling made him the perfect face for this new brand.
Challenge
As a new craft distillery in Labadie, MO, Caledon Virtual was tasked with developing the Samuel Berton brand by creating a vodka label that had a clean, simple look but was reminiscent of the past. Because this was the brand's first product, getting the design "on point" was imperative for capturing the essence of this new brand.
Game plan
By pairing a distressed typeface with a minimal layout, our designers were able to create a label that was as equally vintage as it was modern. We implemented simple ornamentation to frame the label and pulled in lighter colors with darker text to draw in potential customers and easily display information about the vodka.
Solution
The vodka label also highlighted the client's grandfather, from whom the brand is named after. Keeping the brand's namesake in mind, and its desire to bridge the gap between the moonshinin' days and modern-day distilling, this first label served as a springboard for all future label designs.