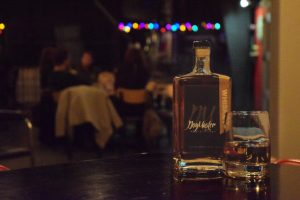 DogMaster Distillers is a distillery located in Columbia, Mo. Led by owners Van and Lisa Hawxby, DogMaster approached Caledon Virtual with the intention of creating their first-ever website. When we started working with Van and Lisa, their website consisted of only a splash page, saying that the real deal was "coming soon." The only problem was that "soon" wasn't soon enough for these two entrepreneurs. So, we got to work right away!
Challenge
While DogMaster had been established in the community for a while, this was the distillery's first website, meaning they were essentially starting from scratch when we first met. Not only did they need a website for the obvious reason of serving as an information hub for their brand, they also wanted to reach a previously untapped market in Columbia. Van and Lisa's long-term goals include becoming a key player in the Midwestern craft distillery scene.
Game plan
Over the next couple of months, both sides collaborated to create a custom website design and voice that encompassed the brand's rockabilly vibe. Our team had many collaborative meetings with Van and Lisa to ensure that the design matched both their brand and their expectations along the way.
Solution
Van and Lisa had a vision – they had an idea of how they wanted their website to look – but they needed some help to that vision into reality. That's where Caledon Virtual stepped in, helping them not just create and program their new website, but write content, implement awesome-looking designs and much more. The result was a completely custom, mobile-friendly and engaging website that fully encompassed the DogMaster brand.